At E.N. Garden Designs Ltd, we pride ourselves on the exclusive range of plants, trees and shrubs grown in our own nursery. We feature many rare and exclusive plants that you won't find anywhere else in Ireland.
Our stock list includes
Japanese maples
Mature specimen trees and shrubs
Olive trees
Hedging
Pleached trees/ espaliers
Bonsais
Topiary plants
Specialising In Japanese Maples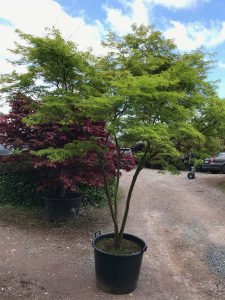 We specialise in Japanese Maples, and have a huge selection in stock. Proprietor Eoin Nolan is passionate about this beautiful tree, and all our stock is carefully nurtured to ensure that it's fully acclimatised to Irish conditions. Using expert splaying and pruning techniques, Eoin manipulates the maples to grow in unusual bespoke ways, resulting in one-of-a-kind specimen trees that will stand out in any garden. Eoin has been tending some of the more mature maples in our nursery for over 10 years.
We also specialise in importing superior plants from nurseries in Italy, the Netherlands and other European countries. Eoin is passionate about quality, and regularly travels abroad to hand-pick plants for client projects and for nursery stock.
Exclusive Nursery Visits
At our own in-house nursery, we like to give our clients an extra special experience where they become invested in the garden design process. When clients come to visit, Eoin can physically show them plants from their design planting list. This brings their project to life, and enables them to visualise exactly how the plants will look in their garden.
To ensure that clients receive a personal, one-on-one  service, visits to our nursery are strictly by appointment only. That way, all clients can be given Eoin's undivided attention.
Contact us now for more details on our exclusive nursery visits.